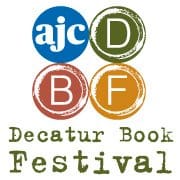 The
Decatur Book Festival
will take place Labor Day weekend, August 30 & 31, 2014, in downtown Decatur.
Like every year, there are so many free events taking place that there's no way that I can do this event justice. I'll hit the highlights here (a.k.a. what I'm excited about seeing), but it's worth taking time to browse through the schedule of events to find things that match your taste.
I'm not sure which day we'll be there–the lineup looks fantastic, and I have no doubt that it will be impossible to make it to everything on my short list of must-see author talks & performances.
A few of the highlights:
The Children's Stage will host some of my kids' favorite authors & theatre groups: Great Books for New Readers with Jon Scieszka, Jennifer Holm, Tom Watson, & Mike Lane and Steampunk Stories with Alan Gratz & Jaleigh Johnson on Saturday, No Place Like Home: The Search for WondLa with Tony DiTerlizzi and The Wizard of Oz with Serenbe Playhouse & Center for Puppetry Arts on Sunday.
The lineup on the Decatur High stage is intriguing, too–On Saturday, 7 Stages will chat about adapting literature to the stage,
and On Sunday, Theatrical Outfit will present parts of The Gifts of the Magi and Serenbe Playhouse will share The Sleepy Hollow Experience.
The Springer Mountain Farms Kitchen Stage has a mix of sessions I'd love to attend, especially The New Southern Table on Saturday and Citizen Farmers and The Messy Baker on Sunday.
The rest of the schedule is packed with events that will make you think, laugh, cry, & the list goes on…browse the list, find what piques your interest, & head out for a weekend celebrating all things books.
–Jennifer Maciejewski