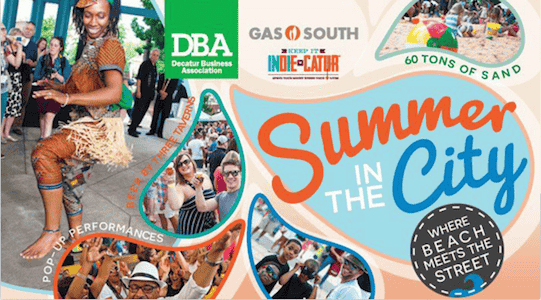 In the mood for a beach party? Head to Decatur on Friday, June 16. Decatur trucked in 60 tons of sand to its historic square to set the stage for the
Decatur Beach Party 2017
: Summer in the City…Where Beach Meets the Street.
From 5:00 p.m.-11:00 p.m., you can listen to live beach music by Bogey and the Viceroy, tunes by DJ Quasi Mandisco, & the Apu Inka Peruvian Band, plus check out the MBond Afrika African Dance Group, stilt walking, fire twirling, sidewalk chalk art, & more. And as always, you can play in the sand.
Even better: There's no admission fee for 2017, thanks to this year's sponsors, including Xfinity & Wells Fargo.
Decatur Square is located at 101 E Court Sq., Decatur.
–Jennifer Maciejewski