Darn, this deal has expired.
Don't miss another.
Subscribe to email updates
,
follow @atlcheap
on Twitter, or
like Atlanta on the Cheap
on Facebook. And be sure
check the calendar
for the latest deals.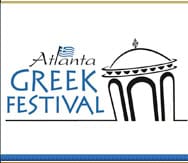 On October 9-12, 2014, the Atlanta Greek Festival will take place at the Greek Orthodox Cathedral. And you can eat on the cheap at the Atlanta Greek Festival, no coupon code required, thanks to a few discount ticket options available.
Admission to the Atlanta Greek Festival is $5 for adults & free for children age 12 & under. But you can save with these deals:
While you're there, you can eat, watch dance shows by The Annunciation Greek Dancers, listen to Greek music by Alpha-Omega Sound, let the kids play in the children's area, shop, & more.
If you just want the food, you can go through the drive-thru & take your favorites home.
The Atlanta Greek festival is open from 5:00 p.m.-10:00 p.m. on Thursday, October 9; 5:00 p.m.-11:00 p.m. on Friday, October 10; 11:00 a.m.-11:00 p.m. on Saturday, October 11; and 11:00 a.m.-7:00 p.m. on Sunday, October 12.
The Greek Orthodox Cathedral is located at 2500 Clairmont Road NE, Atlanta. You'll find free parking & shuttle buses at the Century Center Office Park on Clairmont Road, adjacent to I-85.
–Jennifer Maciejewski