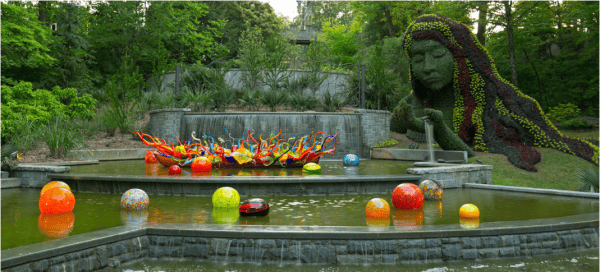 I've been to Garden Lights, Holiday Nights at the Atlanta Botanical Garden several times, and it's a fixture on my "must do this holiday season" to-do list. But now the Atlanta Botanical Garden has a reason for me to head out after dark this spring, summer, & fall, too.
Chihuly in the Garden will be on view through October 30, 2016, and though I haven't gone yet, I've no doubt that it's a gorgeous exhibition. I saw the original exhibition when it was in Atlanta in 2004, and I cannot wait to see its successor–Chihuly's glass works belong outdoors. He beautifully marries the space & plants with his designs, and I'm looking forward to seeing what he created for the 19 installation sites at the Atlanta Botanical Garden.
You'll have two ways to experience Chihuly at the Garden: During the day, Chihuly at the Garden is included in the cost of admission. And on Wednesdays through Sundays, you can head back to the Atlanta Botanical Gardens to experience the exhibition in a new light–the works will be lit for evening viewing during Chihuly Nights.
The downside: Even Garden members are required to purchase a ticket to Chihuly Nights.
Admission to the Atlanta Botanical Garden is regularly $21.95 for adults, $15.95 for children ages 3-12, and free for kids under age 3 and Atlanta Botanical Garden members.
Tickets to Chihuly Nights are regularly $21.95 for adults & $15.95 for kids ages 3-12. Members can get discount tickets for $15.95 for adults & $9.95 for kids ages 3-12.
Chihuly Nights will take place from 6:00 p.m.-11:00 p.m. nightly (last ticket sold at 10:00 p.m.) on Wednesdays through Sundays during the run. Parking is $10 per vehicle or $5 for vehicles with 4 or more people on Friday, Saturday, and Sunday during Chihuly Nights.
FYI–I'm hopeful that the Atlanta Botanical Garden will offer a discount for Chihuly Nights once the initial rush dies down. For other evening exhibitions, they've offered discounts, like savings on non-Peak nights. I'll update you as soon as I come across a deal.
The Atlanta Botanical Garden is located at 1345 Piedmont Ave. NE in Midtown.
–Jennifer Maciejewski