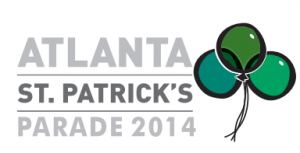 It's that time of year again: Get your green on & head to Atlanta for the
St. Patrick's Day Parade
on Saturday, March 15, 2014.
A pre-parade performance, featuring regional Irish dance groups, will kick off the parade at noon in front of the reviewing stand at 11th and Peachtree Streets. Then Atlanta's St. Patrick's Day parade steps off at Peachtree & 15th Street & continues south on Peachtree, ending at 5th Street. This year, the Budweiser Clydesdales & Clyde (the Dalmation) will join the celebration, plus you'll see one of the world's largest Irish walking flags, dancers & musicians, Irish enthusiasts, & more.
If you take MARTA, use the Arts Center or Midtown MARTA stops for easy access to the parade.
–Jennifer Maciejewski