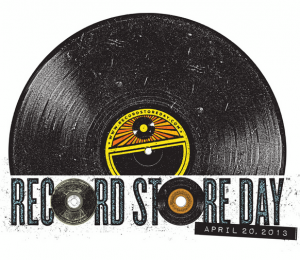 I know some people look forward to
Record Store Day
for the records, but I'm in it for the live music & beer.
Record Store Day will take place on April 20, 2013. What is it? It's the one day each year that a massive list of titles are released only at record stores–some are exclusive releases, some are limited run/regional releases, and some are 'Record Store Day first' releases. It's hard to find an independent record store that doesn't participate in at least the record portion of Record Store Day, and many add in extras to celebrate, like Record Store Day promotional freebies, free in-store concerts, & free beer.
As usual, there's plenty happening in the ATL. To name a few:
Criminal Records (1154-A Euclid Ave NE, Atlanta): If you buy von Grey "Live at Criminal Records 01.01.13," Christ, Lord "Live at Criminal Records 09.29.12," or Mood Rings "Pathos y Lagrimas / 333″ 7″ at Criminal Records, Wax 'n Facts, or Decatur CD, it'll serve as your ticket to that evening's in-store Record Store Day performances featuring all three bands. You must buy one of the releases to attend the live show.
Decatur CD (356 West Ponce de Leon Ave., Decatur): At noon, The El Caminos will perform on Decatur CD's outdoor "stage," and there will be beer.
To find other Record Store Day events in metro Atlanta, browse the Record Store Day list of participating venues & then check the websites and Facebook pages of the local shops for details.
–Jennifer Maciejewski