[exp] [/exp]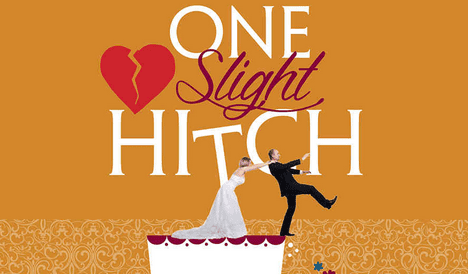 Georgia Ensemble Theatre's production of Lewis Black's farce, One Slight Hitch, will be at the Roswell Cultural Arts Center from January 8-25, 2015.
It looks like a fun night at the theatre. Per the summary: "Known for his no-holds-barred rants on The Daily Show and on the stand-up circuit, comedian Lewis Black is bringing his furiously funny humor to the stage. That's right: Lewis Black has written a play. It's called One Slight Hitch, and it's a delightful wedding farce that follows Doc and Delia Coleman, who are throwing eldest daughter Courtney the lavish wedding they never had. The groom is perfect, the dress is perfect and the decorations (assuming they arrive) will be perfect. But then, the doorbell rings, and one slight hitch wreaks glorious havoc on all of their plans. One Slight Hitch may not be the old-fashioned, sitcom-like play you were expecting from the mind of Lewis Black, but it's rife with the political commentary and offbeat comedy familiar to all his fans."
Want to go? You can save about 50% on tickets to select performances of One Slight Hitch at the Roswell Cultural Arts Center, thanks to an offer on Goldstar. As of today (December 24), discount tickets are available for performances on January 9, 16, & 23, 2015.
Georgia Ensemble Theatre performs at The Roswell Cultural Arts Center, located at 950 Forrest Street, Roswell.
–Jennifer Maciejewski