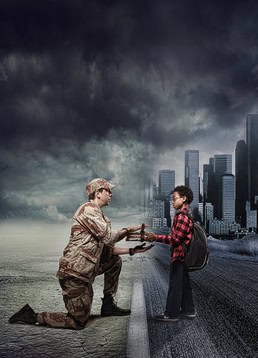 Theatrical Outfit's production of Moxie will be at The Balzer Theater at Herren's through February 28, 2016.
Per the summary: "An American marine in Afghanistan connects with his son from across the world by crafting a handmade book. As Brian Kurlander and Lane Carlock's globetrotting adventure Moxie unfolds, you'll watch the father's unfinished book travel on to a chic Parisian apartment, then to the slums of India and, finally, to an inner-city American school. As the book passes from country to country, all who touch it are sparked to add their own personal stories, contributing to its enchanting and mystical force. This inspirational tale acts as a reminder of the power of storytelling, the potency of words and the courage we all must summon in order to thrive and connect in these modern times. Get carried away by this moving journey when Moxie makes its world premiere at the Balzer Theater in Atlanta."
Want to see it on the cheap? You can get discount tickets to Moxie, some with no coupon code required:
The Balzer Theater at Herren's is located at 84 Luckie St. NW, Atlanta.
–Jennifer Maciejewski