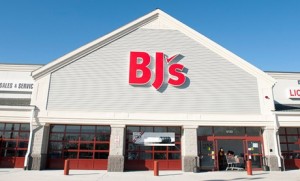 If I didn't already have a membership at BJ's, I'd take advantage of one of these offers:
For a limited time, $35 buys a one-year membership to BJ's Wholesale Club + a $25 gift card, thanks to a deal on Groupon.
If you want to take a quick look around before you buy the Groupon, you can: Through December 31, 2013, you can get a free 60-day trial membership to BJ's Wholesale Club. It really is free–there's no surcharge when you shop.
If you're unaware, BJ's coupon policy will save you even more on the already discounted products: Unlike most warehouse clubs, BJ's allows you to use both BJ's own coupons & manufacturers' coupons. You can only use one manufacturer's coupon per item, but an item isn't defined as one package. If you buy a multipack of toothpaste, each tube of toothpaste counts as an item–this works with anything that has its own UPC code. And you can stack a BJ's coupon with a manufacturer's coupon. You'll find a rack of in-club coupons when you walk into the club. And once you're a member, they'll mail you even more coupons to use each month.
Bonus: On December 14 & 15, 2013, BJ's is hosting a Holiday Cha-ching Event weekend. During the event, BJ's will provide each shopper with a savings sheet, containing a variety of high-value coupons for everything needed to have an unforgettable holiday party & saving shoppers an additional $35 on top of BJ's already low prices.
BJ's has locations in Woodstock, Cumming, Conyers, Newnan, & East Point.
–Jennifer Maciejewski