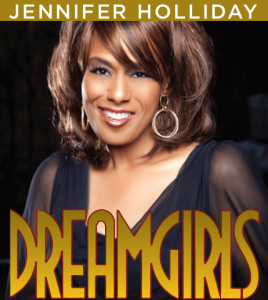 From August 2-11, 2013, Dreamgirls will be at The Fox Theatre in Atlanta. I'll be taking advantage of a discount ticket deal or coupon code to check it out on the cheap, as it should be a fun night at the theatre & I can't pass up an opportunity to see Jennifer Holliday perform live.
Per the summary: "Dreamgirls follows the story of The Dreams, an all-girl singing trio from Chicago, in their quest for success. Based on the show-biz stories of 1960s' R&B acts like the Supremes, the Shirelles and James Brown, Dreamgirls tells a story of heartbreaks and challenges; of breaking new ground, both musically and socially; and how family and friendships triumph and last through all trials. Directed by Robert Clater and choreographed by Lesia Kaye, Dreamgirls features a Grammy award winning score by Henry Krieger and Tom Eyen featuring the songs 'One Night Only,' 'Steppin to the Bad Side,' 'I Am Changing,' and the popular song that won Ms. Holliday her Grammy award, 'And I Am Telling You I'm Not Going.'"
Want to see Dreamgirls on the cheap? You have a few ways to save:
Even though The Fox no longer uses Ticketmaster for its tickets, you can still get Theater of the Stars' half-price ticket deal (same as the one that used to be available at Publix Ticketmaster outlets, but now with a different procedure). Thanks to the AJC, if you use promo code "AJC" when you order tickets online, you can save 50% on tickets the Tuesday, August 6, & Wednesday, August 7, 2013, performances of Dreamgirls.
If you're looking for a dinner & show deal, you can save: $85 buys two tickets to Dreamgirls + a $50 Davio's gift card, thanks to an offer on PoshDealz. The tickets & gift card will be mailed.
The Fox Theatre is located at 660 Peachtree St. NE, Atlanta.
–Jennifer Maciejewski