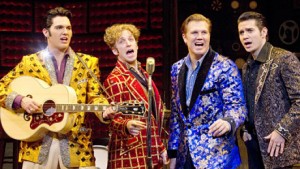 From March 12 through March 17, 2013, Million Dollar Quartet will be at the Fox Theatre.
If you're not familiar with the musical, here's the summary: "Million Dollar Quartet is set on December 4, 1956, when an auspicious twist of fate brought Johnny Cash, Jerry Lee Lewis, Carl Perkins and Elvis Presley together. Sam Phillips, the "Father of Rock 'n' Roll" who was responsible for launching the careers of each icon, brought the four legendary musicians together at the Sun Records storefront studio in Memphis for the first and only time. The resulting evening became known as one of the greatest rock 'n' roll jam sessions in history.
Million Dollar Quartet brings that legendary night to life with an irresistible tale of broken promises, secrets, betrayal and celebrations featuring an eclectic score of rock, gospel, R&B and country hits including; "Blue Suede Shoes," "Fever," "Sixteen Tons," "Who Do You Love?," "Great Balls of Fire," "Matchbox," "Folsom Prison Blues," "Whole Lotta Shakin' Goin' On," "Hound Dog," and more."
Want to see it on the cheap? You have a few ways to get discount tickets to Million Dollar Quartet:
You can save about 40% on tickets to the March 12, 13, & 14, 2013, performances of Million Dollar Quartet, thanks to a deal on Goldstar. Unless they sell out early (and I suspect they will), the last of the vouchers will be available until 4:00 p.m. on Thursday, March 14, 2012.
And AtlanTIX has discount tickets available for most performances of Million Dollar Quartet. After fees, AtlanTIX tends to be the most expensive discount ticket offer, so use it as a backup if tickets to your preferred performance have sold out on Goldstar.
The Fox Theatre is located at 660 Peachtree St. NE, Atlanta.
–Jennifer Maciejewski