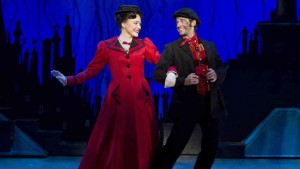 I've seen Mary Poppins both on Broadway & at The Fox, and I'm looking forward to seeing it again when it's back in Atlanta next month.
My girls & I absolutely love the show. When we've seen it, they've woven in plenty of magic throughout the production—tap dancing on the ceiling, Mary Poppins flying & pulling coat racks out of her bag, and more.
"Supercalifraglisticexpialidocious" & "Step In Time" remain my favorite songs, as they're perfect for complex choreography. But as always, don't expect to see a stage reproduction of the movie; there are several points where the plot/characters change—the suffragette movement is replaced with a focus on the changing relationship between George and Winifred Banks, the adventures during "Jolly Holiday" are different, etc. But the familiar songs remain, "Chim Chim Cher-ee," "A Spoonful of Sugar," and "Let's Go Fly a Kite," and it's a magical time at the theatre.
Want to see Mary Poppins on the cheap? You have a pair of ways to save:
You can save about 50% on select tickets to the April 2-4, 2013, performances of Mary Poppins, thanks to a deal on Travelzoo. To get the deal, use promo code "TRAVELZOO" when you order tickets online.
Even though The Fox no longer uses Ticketmaster for its tickets, you can still get Theater of the Stars' half-price ticket deal (same as the one that used to be available at Publix Ticketmaster outlets, but now with a different procedure). Thanks to the AJC, if you use promo code "AJC" when you order tickets online, you can save 50% on tickets the Tuesday, April 2, & Wednesday, April 3, 2013, performances of Mary Poppins.
Mary Poppins will be at the Fox Theatre from April 2-7, 2013. 660 Peachtree St. NE, Atlanta.
–Jennifer Maciejewski