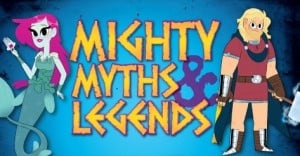 I'll be taking advantage of a discount ticket deal to see both summer shows during Georgia Shakespeare's 2013 season: Metamorphoses by Mary Zimmerman and Mighty Myths & Legends! And this fall, Georgia Shakespeare will stage a production of Hamlet.
Want to see all three on the cheap? You have a few ways to save:
Metamorphoses: Through July 21, 2013
Summary: "An elderly couple questions whether the end of life means the end of love. A greedy father finds he's gotten more than he wanted when everything he touches turns to gold. A son tries to emulate his father and nearly destroys the Earth. A suspicious wife learns too late the value of trust and spends years in penance. The characters in Mary Zimmerman's Metamorphoses grapple with experiences that at first seem outlandish but upon closer examination are very much like ours. Forbidden love. Unbridled greed. Thwarted ambition. The ten deceptively simple stories in this lyrical play—which takes place around a gorgeous pool of water–reveal what it means to be human, and to be in love."
Deals:
Mighty Myths & Legends!: Through July 20, 2013
Summary: "A Nordic god puts his strength to the test. A magical mermaid wanders too far from home. A young man learns the meaning of trust when his mysterious wife has a secret. The greatest legends of human history come together in this action-packed original play adapted from international myths and legends, telling us very modern stories about love, consequences and transformation."
Deals:
Hamlet: October 4-27, 2013
Summary: "Hamlet is a young man in mourning. His father, dead. His mother too soon remarried to his uncle. When Hamlet learns that this uncle is his father's murderer, he devises a ruse to trick the new king into confessing…and then, he will take his revenge. But the king has some tricks of his own–and their clash will leave a trail of dead bodies in its wake."
Deals:
Georgia Shakespeare's productions take place at Oglethorpe University, 4484 Peachtree Rd. NE, Atlanta.
–Jennifer Maciejewski