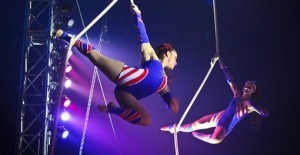 Next month, Piccadilly Circus will bring its show back to Georgia. Want to go? You can get discount tickets for performances from March 1-5, 2013.
For a limited time, $40 buys admission for two adults & up to four kids or $20 buys admission for one adult & up to two kids to Piccadilly Circus. You have a choice of five locations and 11 shows. Bonus: For a limited time, coupon code "FETCH10" will save you an extra 10% at Sweetjack.
The Sweetjack deal is valid for the following shows:
Dalton (Convention Center): March 1 at 4:30 p.m. & 7:30 p.m.
Rome (The Forum): March 2 at 1:30 p.m., 4:30 p.m. & 7:30 p.m.
Marietta (Jim Miller Park): March 3 at 1:00 p.m., 3:30 p.m. & 6:00 p.m.
Athens (UGA Livestock Arena): March 4 at 4:30 p.m. & 7:30 p.m.
Gainesville (Chicopee Wood Agri Center): March 5 at 4:30 p.m. & 7:30 p.m.
–Jennifer Maciejewski