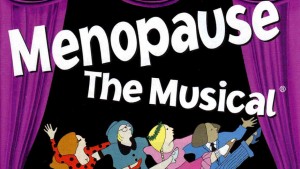 I saw Motherhood: The Musical when it came through Atlanta last year, and if that show is any indication, I'll find Menopause: The Musical equally relatable & hilarious when I'm a bit older. If you want to check it out on the cheap, you're in luck: Discount tickets are available, no coupon code required.
If you're not familiar with the work, here's the summary: "This hilarious musical parody staged to classic tunes from the '60s, '70s and '80s will have you cheering and dancing in the aisles. Set in a department store, four women with seemingly nothing in common but a black lace bra on sale, come to find they have more to share than ever imagined. The all-female cast makes fun of their woeful hot flashes, forgetfulness, mood swings, wrinkles, night sweats and chocolate binges. A sisterhood is created between these diverse women as they realize that menopause is no longer The Silent Passage, but a stage in every woman's life that is perfectly normal!"
Menopause: The Musical will be at the Alliance Theatre from July 30-August 4, 2013. Want to see it on the cheap? While they last, you can save about 50% on tickets to Menopause: The Musical, thanks to a deal on Goldstar. As of today (June 24), there are tickets available for most performances during the run, and unless the deal sells out early (and I suspect it will), the last of the discount tickets will be available through 7:00 a.m. on August 4, 2013.
The Alliance Theatre is located at The Woodruff Arts Center, 1280 Peachtree Street NE, Atlanta.
–Jennifer Maciejewski