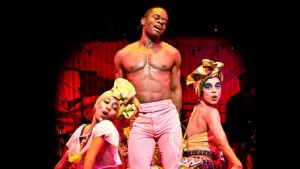 From February 28-March 3, 2013, Fela! The Musical will be at The Fox Theatre. Want to go? You can get an excellent deal on discount tickets to Fela!
If you're not familiar with the work, here's the summary: "FELA! tells the true story of the legendary Nigerian musician Fela Kuti, whose soulful Afrobeat rhythms ignited a generation. Motivated by his mother, a civil rights champion, he defied a corrupt and oppressive military government and devoted his life and music to the struggle for freedom and human dignity. FELA! is a triumphant tale of courage, passion and love, featuring Fela Kuti's captivating music and the visionary direction and choreography of Tony Award winner Bill T. Jones."
Want to see it on the cheap?
You'll need to sign up with Goldstar to take advantage of this deal (it's free to sign up). On the Atlanta page, you'll find an offer to save about 50% on tickets to Fela! The Musical. As of today (February 27), there are discount tickets available for most performances from February 28-March 6, 2013. Unless it sells out early, the last of the discount vouchers will be available until 7:00 p.m. on Tuesday, March 5, 2013.
If you use coupon code 'ZOO50' when you order tickets online, you'll save 50% on tickets to Fela! The Musical, thanks to a deal on Travelzoo. The offer is valid for the following performances: 8:00 p.m. on February 28, 8:00 p.m. on March 1, 2:00 p.m. on March 2, and 2:00 p.m. & 7:00 p.m. on March 3, 2013.
The Fox Theatre is located at 660 Peachtree St. NE, Atlanta.
–Jennifer Maciejewski