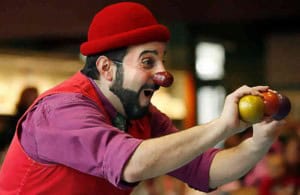 On Saturday, February 23, 2013, Puppetpalooza will take place at Academy Theatre.
From 11:00 a.m.-2:00 p.m., there'll be a puppet variety show featuring the talents of the Atlanta Puppetry Guild, plus games, activities for kids, and merchandise for sale (including one-of-a-kind puppets).
Tickets are regularly $10 for adults & $5 for kids age 12 & under. But you can get discount tickets to Puppetpalooza: After fees, you'll save about $4 on adult tickets, thanks to a deal on Goldstar's Atlanta page. Unless the deal sells out early, you have until 7:00 a.m. on February 23 to get Puppetpalooza tickets on the cheap.
Academy Theatre is located at 119 Center St., Avondale Estates.
–Jennifer Maciejewski