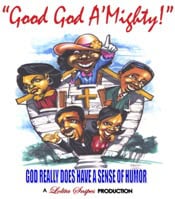 Good God A'Mighty! will be at the 14th Street Playhouse from February 14-24, 2013.
This looks like a fun show. Per the summary: "Lolita Snipes Productions presents the hilarious hit comedy stage play Good God A' Mighty, starring Tony Award winning actress Melba Moore. The play takes a comical look into the African-American ecclesiastics and emulates the ways & culture of church folk when a young, good-looking Pastor arrives from New York City to face a southern congregation in the heart and heat of New Orleans. The zany situations are non-stop when the two Mothers of the church can't keep their hands off him…while the bombastic choir director tries to run him out of the 'The Big Easy' and back to the 'The Big Apple'."
Want to see it on the cheap? If you use coupon code "LSP33", you'll save $10 on tickets to Good God A'Mighty!"
The 14th Street Playhouse is located at 173 14th St., Atlanta. 404-733-5000.
–Jennifer Maciejewski