[exp] [/exp]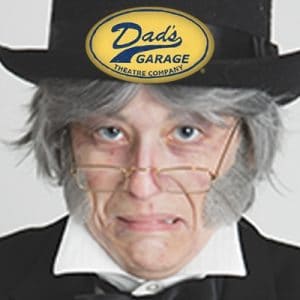 If Dad's Garage's performance of Invasion: Christmas Carol is on your holiday must-do list, now's the time to snag tickets on the cheap.
Not familiar with the work? Here's the quick summary: "After a three-year break, our favorite Christmas tradition is back as Invasion: Christmas Carol returns to the Dad's Garage stage. A different character visits Scrooge every evening (that is a complete surprise to the cast). You'll see Scrooge's past, present, and future unfold in a new way each night. Watch our cast of actors try to perform the traditional Christmas Carol while still trying to deal with the one improviser running around stage causing havoc. It is a beautiful disaster that you're not going to want to miss."
Invasion: Christmas Carol will be at Dad's Garage from November 25-December 30, 2016. Want to check it out on the cheap? Take advantage of one of these deals:
While they last, you can get discount Fancy Pants Seats (reserved) to select performances of Invasion: Christmas Carol at Dad's Garage, thanks to a deal on Poshdealz.
You'll get the best deal on full-priced tickets on Thursday nights; tickets start at $15 online & $17 by phone and at the door. On Fridays, it's $19 online & $21 by phone and at the door, and on Saturdays, it's $23 & $25, respectively. Fancy Pants Seats (reserved) are available for an additional $10 per ticket. Bonus: If you bring a can of food as a donation to any Invasion Christmas Carol performance, you will receive $2 off the price of admission.
Dad's Garage is located at 569 Ezzard St. in Atlanta's Old 4th Ward. There are a limited number of free parking spots in Dad's Garage's lot (located across the street) & limited street parking; arrive early if you're hoping to snag either.
MARTA fans are in luck: Dad's Garage is located within walking distance from MLK Station on the MARTA Eastbound line. Head east on Decatur street from MLK Station until you get to Bradley Street. Make a left, and it is one block up.
–Jennifer Maciejewski