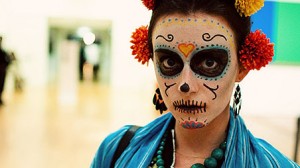 On Saturday, March 9, 2013, head to the High Museum of Art for
Culture Shock: Fiesta para Frida
.
From 8:00 p.m.-midnight, there'll be plenty to do:
Sifly Piazza (weather permitting)
9:00 p.m.-9:45 p.m.: La Orquesta Sabor!
9:45 p.m.: Bingo/Lotería
10:00 p.m.-midnight: Piazza Dance Party with Taradactyl
10:45 p.m.: Bingo/Lotería
Exhibition Entrance (Second floor, Wieland Pavilion)
9:30 p.m.: Tour of Frida and Diego
Robinson Atrium
9:00 p.m.-11:00 p.m.: Stage your own Frida photo at our photo booth. Hairless dogs not provided.
Throughout the evening, there'll be Frida- and Diego-inspired piñatas made by local artists as well as Mexican-inspired food and drink available for purchase.
Tickets are $15, but the price drops to $10 for members, $5 for students, and free for YP members. The High Museum of Art is located at 1280 Peachtree St. NE, Atlanta.
–Jennifer Maciejewski