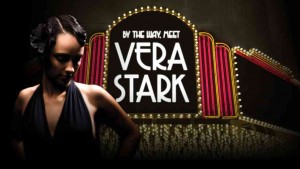 By the Way, Meet Vera Stark will be at the Alliance Theatre from October 16-November 10, 2013. Planning to go? For a limited time, you can use a coupon code or snag a deal to get discount tickets to By the Way, Meet Vera Stark.
By the Way, Meet Vera Stark is on my short list of must-see plays. Here's the quick summary: "In the play The New York Times called a "fitful comedy," Pulitzer Prize-winning playwright Lynn Nottage takes a funny and irreverent look at racial stereotypes in 1930s' Hollywood. When headstrong maid and budding actress Vera Stark lands a groundbreaking role in a new Southern epic, she turns Hollywood on its head and paves the way for future generations of black actresses. Seventy years later, film buffs are left to reflect on the life and legacy of this controversial star, whose eventual fame and fortune may have come at the price of perpetuating dangerous stereotypes. By the Way, Meet Vera Stark celebrates and examines the individuals who fuelled the remarkable American cultural changes of the twentieth century."
Want to see it on the cheap? You can save on tickets to By the Way, Meet Vera Stark:
On Goldstar's Atlanta page, you'll find an offer to get discount tickets to By the Way, Meet Vera Stark. As of today (October 15), Goldstar has discount vouchers available for select performances from October 16-29, 2013.
For most performances, you can buy $20 Rush tickets on the day of the show. For students with ID, the Rush ticket price drops to $10. Rush tickets go on sale after 5:00 p.m. for evening shows and at noon for matinees. Call before you go to check availability (404-733-5000).
And you can use coupon code "VERADM10" to save $10 on tickets to By the Way, Meet Vera Stark. The coupon code is valid for select tickets to performances on Sunday, Tuesday, Wednesday, & Thursday.
A few tips:
Weeknights are typically lighter nights at the theatre, so opt for those if you're taking advantage of rush tickets to improve your odds of snagging orchestra level tickets.
The last time we went to The Alliance, we bought our rush tickets as soon as they went on sale & then headed over to Table 1280 at the Woodruff Arts Center for a pre-show dinner. The prices were reasonable (I was surprised, as I expected them to be much higher & I've paid much more for the three of us to eat out at a chain), the food was delicious, and Hiron (our waiter) was fantastic.
The Alliance Theatre is located at 1280 Peachtree St. NE, Atlanta.
–Jennifer Maciejewski