[exp] [/exp]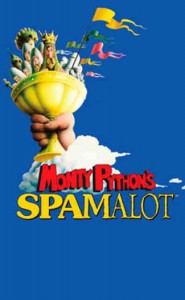 From June 13-29, 2014, Spamalot will be at the Cobb Civic Center's Anderson Theatre.
I've seen Spamalot, & it's a fun show, especially if you're already a fan of Monty Python and the Holy Grail. Per the summary: "Winner of three Tony Awards, including Best Musical, this hilariously over-the-top extravaganza–written by Monty Python alum Eric Idle — borrows lovingly (and unapologetically) from the film classic Monty Python and the Holy Grail. In telling the tale of King Arthur and his epic quest with the Knights of the Round Table, this endlessly amusing musical features such outlandish oddities as flatulent Frenchmen, flying cows, killer rabbits and The Knights Who Say Ni (with some gorgeous showgirls thrown into the mix, as well). If you've been seeking a reminder to 'Always Look on the Bright Side of Life,' you need look no further than Monty Python's Spamalot."
Want to see Spamalot on the cheap? While they last, you can save almost 50% on tickets to most performances of Spamalot, thanks to an offer on Goldstar, dropping the price to about $25 each.
The Cobb Civic Center's Anderson Theatre is located at 548 South Marietta Pkwy SE, Marietta.
–Jennifer Maciejewski