[exp] [/exp]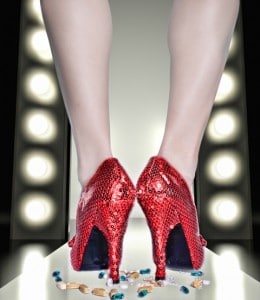 Actor's Express' production of End of the Rainbow will be at The King Plow Arts Center through June 15, 2014.
Per the summary: "It's December 1968, and Judy Garland makes one last stab at a comeback. In a London hotel room with her young new fiancee, pills, and cocktail at her side, Garland prepares for a series of high-profile concerts. Garland's razor-sharp wit, mammoth talent, and raw determination battle with her inner demons to create a tornado of drama as she tries to reclaim her crown as the greatest talent of a generation. Featuring many of Garland's signature anthems, including 'The Man that Got Away,' 'Come Rain or Come Shine,' and 'Somewhere Over the Rainbow.'"
Want to see End of the Rainbow on the cheap? You can get discount tickets, no coupon code required:
The King Plow Arts Center is located at 887 W. Marietta St., Suite J-107, Atlanta.
–Jennifer Maciejewski