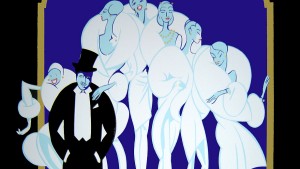 From January 3-10, 2014, Sophisticated Ladies will be at the Cobb Civic Center's Anderson Theatre. I suspect I'll take advantage of a discount to get tickets to the show, as it looks like a fun night at the theatre.
Here's the quick summary: "The musical legacy of 'The Duke' is celebrated in Duke Ellington's Sophisticated Ladies, a stylish and brassy retrospective that has taken audiences and critics alike by storm throughout the world. Winner of two Tony Awards, Sophisticated Ladies is a glorious re-creation of the Duke Ellington big band sound and features all his most famous numbers, from the infamous Speak Easy era of the Cotton Club up to his death, including 'It Don't Mean a Thing If It Ain't Got That Swing,' 'Take the 'A' Train,' 'Satin Doll,' and the haunting 'In a Sentimental Mood.' Featuring The Atlanta Lyric Orchestra and some of the metro area's most talented performers, this song and dance extravaganza is an abundance of riches from the most sophisticated and sassy jazz king of them all."
Want to see it on the cheap? You can get get discount tickets to select performances of Sophisticated Ladies, thanks to an offer on PoshDealz, dropping the price to $25 each. As of today (December 19), there are discount tickets available for performances on January 3, 4, 5, 9, & 10, 2014.
Plus while they last, you can save about 50% on tickets to Sophisticated Ladies, thanks to a deal on Goldstar. As of today (December 19), Goldstar has tickets available for most performances during the run.
Atlanta Lyric Theatre's Sophisticated Ladies will take place at the Cobb Civic Center's Anderson Theatre, 548 South Marietta Pkwy SE, Marietta.
–Jennifer Maciejewski