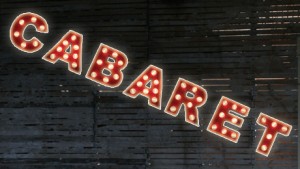 Next Stage Theatre's Cabaret has been extended through January 5, 2013.
Per the summary: "Surely there's no more drastic alternative to fuzzy-wuzzy Christmas cheer than the dark, sexy, dangerous world of Cabaret! Kander and Ebb's landmark musical trains a spotlight on the Kit Kat Club, a seedy burlesque theater in the early days of Nazi Germany. It is at the club where a young American writer, Clifford Bradshaw, meets a flighty chanteuse, Sally Bowles, and sets off a chain of events that will change their lives forever."
Want to see it on the cheap? You've got a few ways to save:
Next Stage Theatre is located at The Alley Stage, 11 Whitlock Avenue Marietta, at the corner of Anderson Street and Powder Springs Street.
–Jennifer Maciejewski