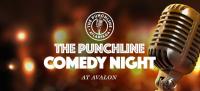 In need of a few free laughs?
It's almost time to stop by Avalon for The Punchline Comedy Night.
From 7:30 p.m.-9:00 p.m., you can watch live comedy acts perform in Palmer Plaza. The first Punchline Comedy Night of the 2017 season features headliner Kenn Kington, and it will take place on Monday, April 10.
Bonus: Colletta & Oak … [more]