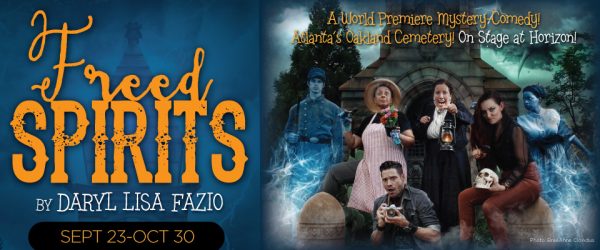 Freed Spirits will be at The Horizon Theatre through October 30, 2016.
I just snagged tickets, as it sounds like a fun night at the theatre. Per the summary: "Oakland cemetery has a ghost. A freak tornado cuts a swath through Atlanta's historic graveyard, exposing buried clues and evoking eerie sightings. Tour guide Susan and steampunk survivalist MJ unite with a geeky spirit photographer and a retired pathologist to solve the mystery. This band of urban misfits races through the monuments and headstones while the line between past and present blurs in Atlanta's most spectacular spooky setting."
Want to go? You can save a bit, thanks to these deals:
General admission tickets to Freed Spirits are regularly $25 on Wednesday & Thursday evenings, $30 on Friday & Sunday evenings & Saturday afternoons, & $35 on Saturday evenings.
While they last, you can get discount tickets to select performances of Freed Spirits, thanks to a deal on Loaf Deals. The discount voucher is valid for select performances from September 23-October 15, 2016.
Groups of 10-24 receive $3 off the general admission ticket price, and groups of 25+ receive $5 off the general admission ticket price. Call 404-523-1477 x111 to get the deal.
The Horizon Theatre is located at Euclid & Austin Avenues in Little Five Points.
–Jennifer Maciejewski