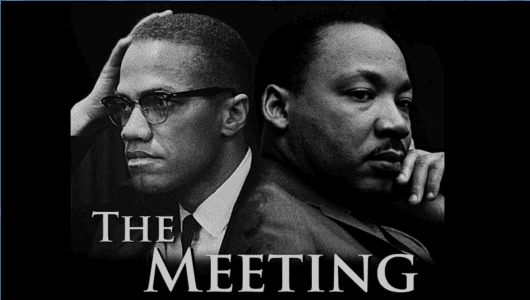 From February 15-25, 2018, The Meeting will be at the Theatre in the Square in Marietta.
Not familiar with the work? Here's the quick summary: "Two iconic African-American leaders meet in a Harlem hotel room in 1965 to debate the future of the Civil Rights Movement. This charged and emotional encounter between Martin Luther King Jr. and Malcolm X never actually happened, but playwright Jeff Stetson channels the two men's psyches and egos with rare insight and unsettling power as they argue their differing visions for nationwide change. As their no-holds-barred conversation expands and deepens, the two contrasting personalities come to learn much about one another and–together–discover common ground."
Want to see it on the cheap? You can get discount tickets to The Meeting:
While they last, you can snag discount tickets to The Meeting on Goldstar. As of today (January 15), discount tickets are available for most performances from February 15-25, 2018.
Tickets to The Meeting are regularly $30+fees for adults. Discounts are available for seniors, students, & children for most performances.
Marietta's new Theatre in the Square is located at 11 Whitlock Ave NW, Marietta.
–Jennifer Maciejewski