[exp] [/exp]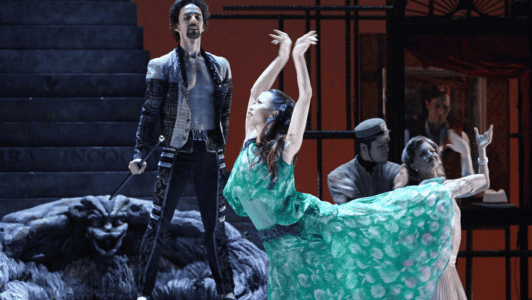 Atlanta Ballet's Camino Real will be at the Cobb Energy Centre from May 12-14, 2017.
Per the summary: "Drawing inspiration from A Streetcar Named Desire, one of playwright Tennessee Williams' most surreal dramas, Atlanta Ballet's Camino Real is a dreamy fusion of dance and theater that follows a former boxing champ stranded in a lonely desert town. There, our hero Kilroy's fighting spirit galvanizes the local lost souls, who include a former courtesan named Marguerite; an innocent beauty, Esmeralda, who is peddled in the town square by her Gypsy mother; Gutman, a menacing hotel proprietor; and a burnt-out charmer named, naturally, Casanova. A hypnotic tale of good versus evil unfolds in this city of dual realities, as Kilroy brings a new sense of hope to citizens who have gone without for all too long."
Planning to go? You've got a pair of ways to see Camino Real on the cheap:
The Cobb Energy Centre is located at 2800 Cobb Galleria Parkway, Atlanta.
–Jennifer Maciejewski