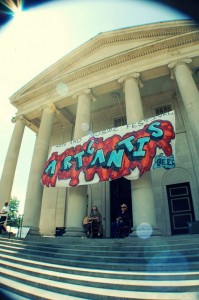 On June 1, 2013, the
ARTLANTIS Arts & Music Festival
will take place at Druid Hills Baptist Church.
From 10:00 a.m.-7:00 p.m., you can shop the works of local emerging artists, listen to live music, & more.
Here's the lineup:
11:00 a.m.: Muleskinner Macqueen
Noon: Bad Kidz
1:00 p.m.: V!C†OR N£WM@N
2:00 p.m.: Philip Frobos
3:00 p.m.: Warsz
4:00 p.m.: Shepherds
5:00 p.m.: Del Venicci
6:00 p.m.: deadCAT
I haven't made it out to Artlantis yet, but I need to shop it. Given that Beep Beep Gallery brings Artlantis to Atlanta, I'm sure I'll find a new-to-me piece of awesome that must make its way to my home.
Druid Hills Baptist Church is located at 1085 Ponce De Leon Ave NE, Atlanta (Corner of Ponce & North Highland).
–Jennifer Maciejewski