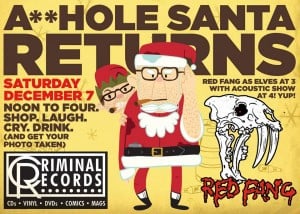 FYI–He's back.
If a visit with A**hole Santa at Criminal Records is one of your traditions, you know where you need to be this weekend. From noon-4:00 p.m. on Saturday, December 7, 2013, you can shop, laugh, & get your picture taken with the not-so-jolly old elf.
Bonus: Metal band Red Fang will don their holiday finery & join the party at 3:00 p.m. then play a live acoustic set at 4:00 p.m.
A**Hole Santa is a free & all-ages event. Love this note: "Housebroken children & pet welcome." But as for the kids part, this really is A**Hole Santa; bring them at your own risk.
Criminal Records is located at 1154 Euclid Ave in Little Five Points. 404-215-9511.
–Jennifer Maciejewski